Our office uses an intra-oral exam in order to allow the patient to see the what the doctor sees at the same time. This allows the patient to understand the issues the doctor is seeing and helps the doctor in discussing treatment plans.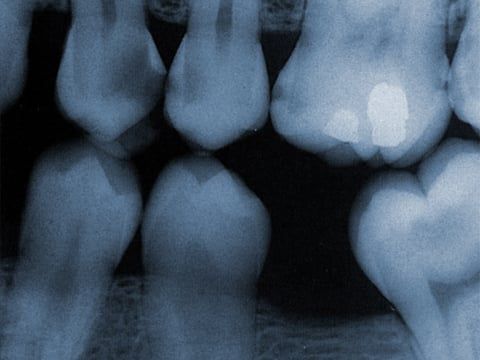 Our office uses the latest in digital x-ray technology. Digital x-rays offer a detailed image of your entire mouth and also offer up to 80% less radiation than traditional film x-rays.
X-rays play an invaluable role in the diagnosis of dental problems, as well as provide a clear picture for a dentist to accurately diagnose and provide the necessary treatment.
We place a small sensor in your mouth. The sensor is connected to a computer by a thin wire. Next, an x-ray beam is sent through your teeth and into the sensor, which records the image of your teeth and sends it to the computer. The sensor can then be repositioned to image other sections of your teeth.
The digital dental x-ray system is more sensitive than dental x-ray film systems, so your exposure to x-rays is cut by as much as 90 percent. The large and color-enhanced images let you see what your dentist sees, so it's easier for you to understand how your dentist will treat your teeth. Your dental checkups take less time, and it's fun to watch this system work! Most patients are amazed.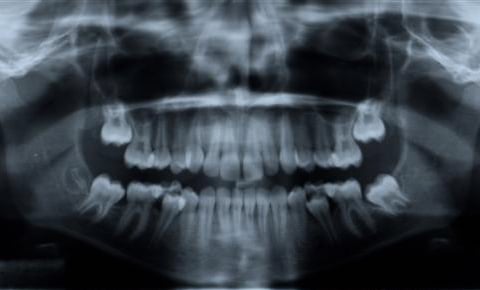 Panoramic x-rays offer patients a complete detailed image of the entire mouth including the teeth, jaw (upper and lower), sinuses, and TMJ.
It provides a complete picture on how everything looks and relates to each other.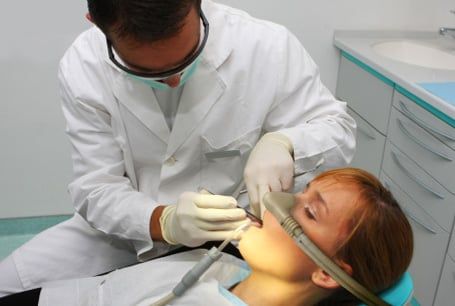 Nitrous oxide, also known as laughing gas, is most often used for patients who are mildly or moderately anxious or nervous. It eases their fears so that they can relax and receive treatment comfortably and safely. Nitrous oxide is administered by placing a small mask over the patient's nose. As the gas begins to work, the patient becomes calm, but is still awake and can communicate. When the gas is turned off, the effects of sedation wear off almost immediately.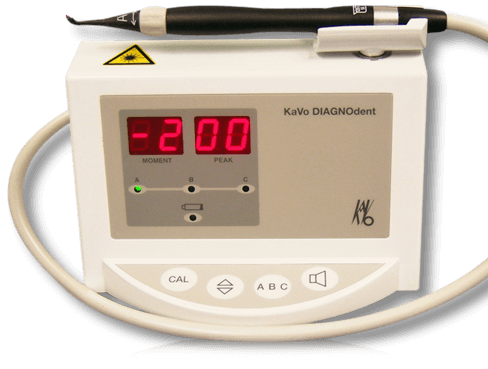 The Diagnodent is the latest in cavity detection. The Diagnodent can detect the smallest cavities that even the trained eye of your dentist can miss, even while using magnification loupes! The earlier the cavity can be detected, the sooner it can be removed and chances are, there will be minor, if any, pain involved.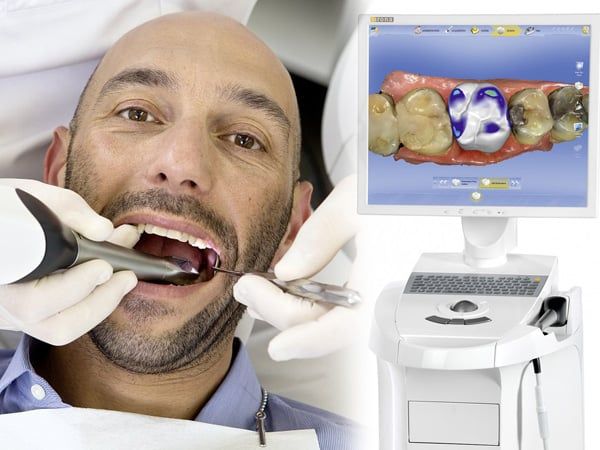 CEREC Omnicam is optimized for powder-free scanning of natural tooth structures and gingiva. Simply place the camera over the relevant area and the scan starts automatically. The elimination of a powder coating means that the scanning process is faster and easier. Full-arch and half-arch scans can now be performed more conveniently and quickly than ever before.

It is impressive to see the 3D model displayed in full color on the monitor. The various surfaces are shown in their natural shades. This direct and realistic feedback helps to distinguish between amalgam, gold or composite fillings and other subtle problems in the mouth.
CEREC to the Rescue to Provide Same-Day Dentistry
Our patients benefit from single-visit restorations including crowns, inlays & onlays, white fillings and veneers using a very high-tech piece of dental equipment called CEREC.

CEREC stands for CEramic REConstruction and represents a process where we digitally scan the area of your mouth where the dental restoration will be placed, designing a replacement restoration right there, and finally milling the final restoration during the same appointment.

Our patients don't have to walk around with bulky and uncomfortable temporary crowns and won't have to come back for a second appointment for the final fitment and placement of the dental restoration. If you are in need of a dental restoration, chances are CEREC can provide it in just one visit. We invite you to call our dental office at (650) 631-2893 or request an appointment online and let us answer that question right then and there!
We use a highly-sensitive precision wand to digitally scan the section of your mouth where a dental restoration will be placed. As the wand scans the area, it builds a virtual model of your mouth on a screen right in front of your eyes. You and Dr. Nickhinson can fine-tune the area until the virtual model represents your mouth exactly.
Once the digital model of the dental restoration area have been finished, Dr. Nickhinson will digitally design a restoration right there on the screen. It will be designed to be fully functional and fit exactly in the area where it needs to be place.
From there, this digital restoration will be sent to a milling machine where a color-matched block of porcelain will be precisely milled into the final restoration. This restoration is NOT a temporary, but rather the same restoration we expect to receive from a dental lab.
The final restoration is test-fitted to the area and any final adjustments are made before securely bonding the restoration to the tooth. You will walk out of our office wearing the final restoration in a single dental visit.
Single appointment dentistry is not too good to be true! Call us at (650) 631-2893 or request an appointment to see what CEREC can do for your specific situation.
Are CEREC Restorations Expensive?
CEREC restorations are the quickest way today to receive a final dental restoration. Because of their "single-visit" nature, they are typically associated as a high-cost dental service. This is not always true and in many cases, a CEREC restoration costs about the same as a traditional restoration.
In any case, a same-day dental restoration is easily affordable at Belmont Plaza Dental Care. We are a proud CareCredit provider which means your dental restoration can be financed in most cases with no interest rate for a set financing term.
Still Have Questions?
Request an appointment and get set up to come in and talk more with Dr. Nickhinson regarding your specific needs and wants. No question is ever off limits so what are you waiting for?