One hour bleaching systems use a very bright light to activate higher bleaching concentrations to produce faster, more dramatic whitening results.
The technician will protect your mouth very carefully using cotton rolls, gauze and a liquid dam.
A special whitening lamp is used to activate the whitening gel for approximately 60 minutes.
Single Visit Whitening vs. Home Whitening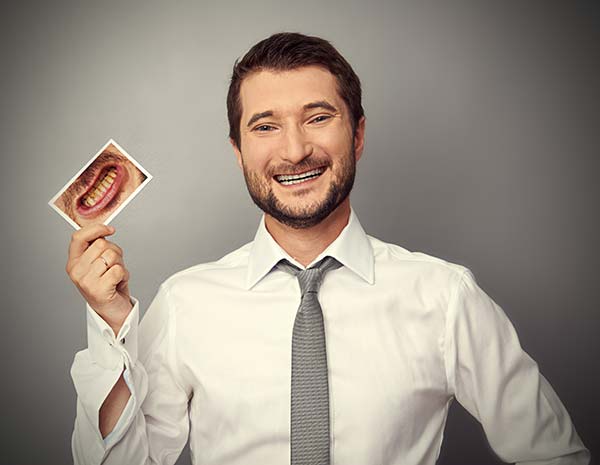 Today, whitening your teeth can be done using a variety of products and services. Do-it-yourself at-home whitening kits are available at your local supermarket and are an effective way to whiten teeth but require frequent applications for weeks at a time to achieve a whiter smile. Our whitening system uses a specialized concentrated whitening gel that you can't find in supermarkets and is activated by using a powerful whitening light that is also not available to the general public. Single-visit whitening is done in the dental office and only requires 1 dental visit compared to nightly whitening applications from an at-home whitening kit.

Any form of teeth whitening can achieve great results. Single-visit whitening enables those with time-sensitive occasions such as a wedding, reunion, etc. to whiten their teeth now however, home whitening is an extremely affordable whitening method you can do yourself!
One of the most requested procedures asked of a dental office is tooth whitening. This is a procedure that will assist in removing stains and discoloration from teeth while lightening them.

Tooth whitening can only be completed once cavities are treated in order to prevent the whitening solution from reaching the inner tooth and causing sensitivity. Also keep in mind that tooth whitening is unable to lighten exposed tooth roots and tooth replacements such as crowns and veneers.
A Beautiful Smile Is Waiting For You
Our office provides smile makeovers to achieve the beautiful, natural look you seek. We can reshape your natural teeth to make them straighter and more youthful. Our office is easily accessible and makes it convenient to those living near Belmont to get the care they deserve.